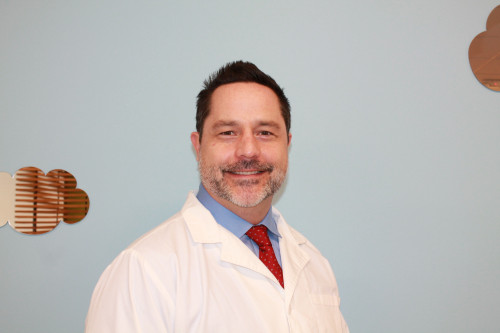 Michael Austin, DMD
Known as Dr. Mike, by his patients, Michael B. Austin is a Board-Certified Pediatric Dentist. Dr. Mike was born in California and grew up in Utah. While attending the University of Utah, he played football for the Utes and spent two years on a mission trip in Chile, which made him fluent in Spanish.
Dr. Mike went on to attend dental school in Pittsburgh and a two-year anesthesiology residency in Stony Brook, on Long Island. During this residency, he met his future wife and discovered the joy of working with children. This led him to complete a residency in pediatric dentistry in Brooklyn, NY. Having a heart for service, Dr. Mike has participated in mission work both here and abroad.
The beautiful scenery and culture of the PNW led Dr. Mike to Washington, where he and his wife and dog, now call home. Outside of dentistry, Dr. Mike enjoys watching college football, cheering for the Seahawks, snowboarding (favorite spot: Snowbird), playing golf (favorite spot: Guam), reading, traveling (favorite spot: Maui), and spending time at the many wonderful dog parks of Western WA with his wife and dog.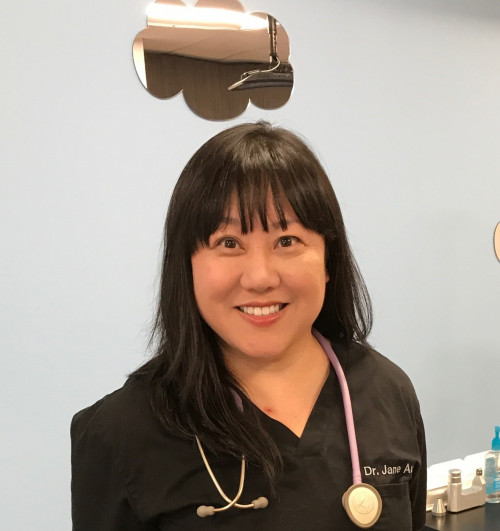 Jane Yi Austin, DDS
Dr. Jane Austin was born in Korea and grew up on the island of Guam (Hafa Adai!). Following college in Boston, Dr. Jane worked in the fashion trade show industry for a couple of years before changing career paths to dentistry, upon moving to California. She started working as an instrument sterilizer and immediately grew attracted to all fields of dentistry. From there, she went to hygiene school and dental school. Following dental school, Dr. Jane completed a general practice residency in Manhattan and went on to a dental anesthesiology residency on Long Island, where she met her future husband.
Outside of dentistry, Dr. Jane enjoys traveling, baking, reading, and spending time with her husband and dog. Her favorite places to travel are Barcelona and Paris.
Emily B.
Meet EMILY! Emily hails from Spokane, WA. She moved to Seattle after receiving her Associates in Applied Science degree in Dental Assisting.
Her favorite thing about working with kids is hearing all the funny things they have to say!
Outside of dentistry, Emily enjoys reading, hanging out with friends, watching movies, caring for her gecko, Oxford, and playing computer games.
Chloe J.
Meet CHLOE! Chloe graduated from the Dental Assisting program at Lake Washington Technical College in 2015. She grew up in Arlington, and now lives in Oso with her boyfriend, dog (Lucy), cat (Georgie) and goat (Elvis). Chloe enjoys working as a pediatric dental assistant because she finds delight in educating children on oral hygiene, and takes pride in having an impact on the way each child views dentistry. Outside of dentistry, Chloe enjoys spending time outdoors, hanging out with friends and family, and watching movies! Her favorite movie is Sweet Home Alabama, but she loves anything Disney!
Erin J.
Meet Erin!
Erin's hometown is Everett, and she loves EVERYTHING about dentistry--the people, the smiles, and learning new things, just to name a few!
She graduated from West Coast College of Dental Assisting and currently attends Shoreline Community College to further her dental career.
Outside of dentistry, she enjoys camping and hiking with her kiddos and traveling to exciting new places and trying the local food.
Fun facts: Erin is really good at hula hooping and has 2 cats--Elephant and Hyena!
Nicole H.
Meet NICOLE! Nicole is from Everett, and is currently attending Shoreline Community College, with hopes of becoming a dental hygienist. Nicole's favorite thing about working as a dental assistant at Tree House Dentistry for Kids is helping to make a difference in kids' lives. Outside of dentistry, Nicole loves spending time with friends and family, reading, playing with her dog, and watching movies.
Maxine Austin
Maxine is our office mascot! She was born just outside Hershey, PA and spent her puppy years in the urban jungle of Brooklyn, NY.
She is available by appointment only, to give high-fives to anyone who requests it, and if you're lucky, she will dazzle you with some of her other tricks!
Outside of the office, Maxine enjoys collecting sticks, barking at skateboarders, and romping in the many wonderful dog parks around Western WA. Her favorite place to travel is Cannon Beach. Maxine is a proud Seahawks fan, and will wear her jersey every blue Friday!